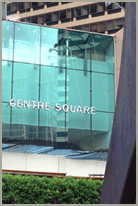 Contact Us
Our Center City Philadelphia office is located across the street from historic City Hall, in the Centre Square towers at the landmark "Clothespin" sculpture. Our location reflects our commitment to aggressive representation: We are steps away from the civil courtrooms at City Hall and the criminal courtrooms at the Criminal Justice Center. We are also nine blocks away from the Federal Courthouse, including the United States Court of Appeals for the Third Circuit and the United States District Court for the Eastern District of Pennsylvania.
Our location is extremely convenient for personal service. Suburban Station and City Hall Station connect directly to the concourse level of our building. Clients can board a train at any SEPTA station and arrive at our 12th floor offices without ever stepping outside. Amtrak's 30th Street Station is a five minute taxi ride away.
Law Offices of Peter G. Erdely LLC
1500 Market Street
12th Floor, East Tower
Philadelphia, PA 19102
P 215.665.5650 F 215.689.0198
Find us on:
Civil Litigation:
Whether you have been injured, are being sued or have a dispute with an insurance carrier over a property or business loss, you need an aggressive, experienced trial lawyer who is willing to go the distance. Put an insurance insider on your side: Through years of representing insurance companies, Peter has an inside view of how insurance companies evaluate the merits and value of your claim. Peter also has the jury experience to get the verdict you deserve, plus the appellate expertise to defend your judgment. Peter is a proven courtroom warrior who teaches Trial Advocacy to upper level law students at Rutgers University School of Law.
Criminal Defense:
Peter has vigorously and successfully defended individuals in Federal and State Courts. Put a former prosecutor on your side: Peter knows exactly how prosecutors and detectives investigate, evaluate and try your case. For years, Peter worked closely with FBI agents, US Marshals, and Philadelphia detectives and narcotics officers in a wide range of cases, and even trained Philadelphia Police in narcotics and DNA expert testimony. This insider insight is crucial if you have been arrested or are being investigated for any crime – misdemeanor to homicide, juvenile to adult, state to Federal. As a result of his expertise, Peter teaches Criminal Procedure and Trial Advocacy to upper level law students at Rutgers University School of Law.
Often, defendants and their families will mistakenly delay before retaining counsel. However, important rights can be waived long before the trial date, such as remaining silent, preliminary hearings, discovery and motions to suppress government evidence. If you or someone you love has been arrested or is being investigated, please contact us for a personal, confidential evaluation.
Counsel to Small Business:
Small business owners know it can be nearly impossible to obtain experienced legal counsel at reasonable rates. But we at The Law Offices of Peter G Erdely LLC take great pride in offering sophisticated services to small businesses. Peter has guided entrepreneurs through business formation; employment and labor disputes; commercial litigation with competitors; zoning and real estate matters; unemployment compensation and other regulatory obligations. We represent both employers and employees in matters arising from employment discrimination claims, including the EEOC and Pennsylvania Human Relations Commission. We also represent both employers and employees in unemployment compensation disputes and in wage payment disputes under the PA Wage Payment and Collection Law.
In addition, we assist employers in developing written policies and procedures to avoid future problems.
Family:
Nowhere is personal attention more important than in matters of family law. Whether you are seeking a divorce, modifying custody rights, pursing adoption of a child or find yourself needing or defending against a protection from abuse order (PFA), you need an advocate who will listen directly to you, not merely read some junior attorney's notes in the case file. Peter handles such matters personally and directly.
Peter has assisted individuals and families in matters ranging from prenuptial agreements to the disinterment and reburial of the remains of loved ones.
©2013 Law Offices of Peter G. Erdely LLC | Home | Disclaimer | Disclosures | Privacy | Site by WEBZENSTUDIO
Terms and Conditions
Welcome to the Law Offices of Peter G. Erdely LLC website. This Agreement contains the terms, covenants, conditions, and provisions upon which you may access and use this Site and the information and materials found on this Site. This Agreement is effective as of July 5, 2011.
By accessing, viewing, or using this Site, you, the Visitor, indicate that you understand and intend these Terms and Conditions to be the legal equivalent of a signed, written contract and equally binding, and that you agree to such Terms and Conditions. Please note that the Law Offices of Peter G. Erdely LLC reserves the right to change the Terms and Conditions under which this Site and its offerings are extended to you. Your continued use of this Site following reasonable notice of such modifications will constitute your acceptance of such changes. You also agree that notices we may provide on the Site itself shall be deemed reasonable notice for this purpose.
Disclaimer: The information on this site does not convey legal advice of any kind. Your use of this site does not create a lawyer-client relationship between you and the Law Offices of Peter G. Erdely LLC nor will any information you submit to us via this site or by email be considered a lawyer-client communication or otherwise be treated as privileged in the absence of a pre-existing express agreement by the Law Offices of Peter G. Erdely LLC to the contrary. Prior results do not guarantee a similar outcome.
Copyright Notice: All copyrightable text and graphics, the selection, arrangement, and presentation of all materials (including information in the public domain), and the overall design of this web page are © 2011-2013 Law Offices of Peter G. Erdely LLC, all rights reserved. Permission is granted to download and print materials from this website for the purpose of viewing, reading, and retaining for reference. Any other copying, distribution, retransmission, or modification of information or materials on this site, whether in electronic or hard copy form, without the express prior written permission of the Law Offices of Peter G. Erdely LLC is strictly prohibited.
Third Party Materials and Links: The Site may, on occasion, contain materials posted by third parties. If you believe that any materials on this Site infringe any copyright or other intellectual property interest, please provide the Law Offices of Peter G. Erdely LLC with the following information in compliance with the Digital Millennium Copyright Act: (a) an electronic or physical signature of the person authorized to act on behalf of the owner of the copyright or other intellectual property interest; (b) a description of the copyrighted work or other intellectual property interest that you claim has been infringed; (c) a description of where the material that you claim is infringing is located on the Site; (d) your address, telephone number, and e-mail address; (e) a statement by you that you have a good faith belief that the disputed use is not authorized by the copyright or other intellectual property owner, its agent, or the law; (f) a statement by you, made under penalty of perjury, that the above information in your Notice is accurate and that you are the copyright or other intellectual property owner or authorized to act on the copyright or other intellectual property owner's behalf. Notice of claims of copyright or other intellectual property infringement on the Site should be directed to Peter Erdely.
The Law Offices of Peter G. Erdely LLC may provide links, in its sole discretion, to other sites on the Internet for the convenience of its Visitors in locating related information and services. These sites are maintained by third parties over whom the Law Offices of Peter G. Erdely LLC exercises no control. Accordingly, the Law Offices of Peter G. Erdely LLC expressly disclaims any responsibility for the privacy policies, information collection practices, the content, the accuracy of the information, and/or quality of products or services provided by or advertised on these third-party web sites. Moreover, these links do not imply an endorsement with respect to any third party or any web site or the products or services provided by any third party.
Limitation of Liability: In no event shall the Law Offices of Peter G. Erdely LLC be liable for any indirect, punitive, incidental, special, or consequential damages arising out of or in any way connected with the use of this site or with the delay or inability to use this site, or for any information and materials available on this site, or otherwise arising out of the utilization of this site, whether based in contract, tort, strict liability, or otherwise, even if the Law Offices of Peter G. Erdely LLC has been advised of the possibility of damages.
This Agreement will be governed by the laws of the State of Pennsylvania without giving effect to the choice of law provisions thereof and all parties to this Agreement expressly agree to be subject to the jurisdiction of courts in the State of Pennsylvania.
State Advertising Disclosures
Because some material on this web site constitutes lawyer advertising, and this web site may be viewed from anywhere, particular disclosures are required by the rules of some states, the Law Offices of Peter G. Erdely LLC adopts and makes the following disclosures:
Alabama: No representation is made that the quality of the legal services to be performed is greater than the quality of legal services performed by other lawyers.
Colorado: Colorado does not certify attorneys as specialists in any field.
Florida: The hiring of a lawyer is an important decision that should not be based solely upon advertisements. Before you decide, ask us to send you free written information about our qualifications and experience.
Iowa: The determination of the need for legal services and the choice of a lawyer are extremely important decisions and should not be based solely upon advertisements or self-proclaimed expertise. This disclosure is required by rule of the Supreme Court of Iowa.
NOTICE TO THE PUBLIC: Memberships and offices in legal fraternities and legal societies, technical and professional licenses, and memberships in scientific, technical and professional associations and societies of law or field of practice do not mean that a lawyer is a specialist or expert in a field of law, nor do they mean that such a lawyer is necessarily any more expert or competent than any other lawyer. All potential clients are urged to make their own independent investigation and evaluation of any lawyer being considered. This notice is required by rule of the Supreme Court of Iowa.
Kentucky and Oregon: THIS IS AN ADVERTISEMENT.
Mississippi: The Mississippi Supreme Court advises that a decision on legal services is important and should not be based solely on advertisements.
Missouri: Neither the Supreme Court of Missouri nor the Missouri Bar reviews or approves certifying organizations or specialist designations.
Nevada: The State Bar of Nevada does not certify any lawyer as a specialist or expert.
New Jersey: ATTORNEY ADVERTISEMENT -- NOT A REFERRAL SERVICE. Before making your choice of an attorney, you should give this matter careful thought. The selection of an attorney is an important decision.
New Mexico: LAWYER ADVERTISEMENT.
New York: ATTORNEY ADVERTISING. Prior results do not guarantee a similar outcome.
Tennessee: None of the attorneys in this firm are certified as a Civil Trial, Criminal Trial, Business Bankruptcy, Consumer Bankruptcy, Creditor's Rights, Medical Malpractice, Legal Malpractice, Accounting Malpractice, Estate Planning or Elder Law specialist by the Tennessee Commission on Continuing Legal Education and Specialization. Certification as a specialist in all other listed areas is not currently available in Tennessee.
Texas: Unless otherwise stated, our attorneys claiming certification in an area of law are not certified by the Texas Board of Legal Specialization.
Wyoming: The Wyoming State Bar does not certify any lawyer as a specialist or expert. Anyone considering a lawyer should independently investigate the lawyer's credentials and ability, and not rely upon advertisements or self-proclaimed expertise.
Privacy Policy
The Law Offices of Peter G. Erdely LLC will respond to direct inquiries from site visitors, but we does not otherwise use information collected from visitors to our site for marketing purposes, and we do not provide or sell such information to third parties. We do use the information supplied by you or your browser to track the popularity of this site and the usefulness of particular links or features. We also do not use cookies to track your online activities. We reserve the right to change this policy at any time without advance notice. If we do change our policy, the new policy will not go into effect until it is posted here and will only apply to information collected after the new policy goes into effect.
The Law Offices of Peter G. Erdely LLC does not knowingly solicit information from children and we do not knowingly market the Site or its services to children. No one under the age of 18 should submit any personal information to the Law Offices of Peter G. Erdely LLC and/or the Site.